Return to Headlines
ON EDUCATION: "Be There or Be Square! The importance of Attendance." Article...
Interested in reading more About Attendance?
(Then link the question above to Curriculum and Instruction where you have the entire message below)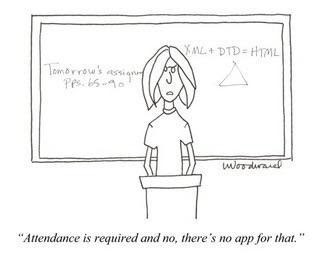 One of the Principals I used to work with used to repeatedly say to all teachers, "Half of any job is showing up." I initially found that underwhelming as I thought it was far more important to have impact when present. I came to agree with him- Woody Allen said, it's 75% of any job!
That Principal was also an amazingly wonderful man to work with in terms of modeling
both
physical presence and transformational impact
on learning for all.
He also regularly said, "If it's going to be, let it be me." He lived his words and made great things happen for all kids.
Here is some relevant research on attendance you may not have seen since
new attendance measures are now wrapped into the accountability measures for each of our schools. A startling Massachusetts-based article is Josh Goodman's.
"In Defense of Snow Days" by Josh Goodman https://www.educationnext.org/defense-snow-days/

This study features data from Massachusetts and shows that "each one-day increase in the student absence rate driven by bad weather reduces math achievement by up to 5 percent of a standard deviation, suggesting that differences in average student attendance may account for as much as one-quarter of the income-based achievement gap in the state. Conversely, instructional time lost to weather-related school closings has no impact on student test scores."
Basically, the idea is: When schools close entirely because of bad weather, it doesn't affect test scores. But when it's one of those days where the weather is bad but schools don't close, a lot of kids still miss the day because they can't get to school for whatever reason—and you can see the impact on their test scores later on.
While this is just one source/reason for student absences, it's a clever one to look at in terms of figuring out how much student attendance matters. Unlike many of the other reasons why kids miss school (such as illness, lack of access to transportation, parent work schedules, etc.), snow days essentially happen at random. So you don't have to worry that some other thing you didn't account for caused both the illness or transportation problem AND the reduced attendance in school.
Elise Manley-Frangos, Ed.D
Assistant Superintendent for Curriculum, Instruction and Assessment
Old Rochester Superintendency #55
135 Marion Road, Mattapoisett, MA 02739
508-758-2772 ext 1963